Well, here it is… another XS650 racer. As you can see, it's a 1980 XS650 Heritage Special that's seen better days, complete with retarded 'monkey-hanger' handlebars.
Over the next few months I'll update this page as and when I manage to get anything done to it.
Plans include a cut-down frame, Excel 18″ black rims, stainless spokes, Brembo brakes, 750 cc kit, Mikuni RS36 flat-slides, Shell cam and intakes… etc. etc. Below is the stock bike and frame in all it's very heavy glory.
Weight loss from a healthy diet of carving crap off.
Here's the frame… or at least the beginning of the frame. 20 lbs of crap shaved off, then the brackets for the tank, seat, battery and the Yoshi rear-sets are welded on… and off to be powder-coated in crinkle black. I hope to get the weight down to around 350 lbs for the complete bike… it started out at around 480 lbs in it's fat, overly chromed original state.
More weight loss from spending money.
Next I had to get rid of those pig-iron mags and build up a set of aluminum rims on hubs that could carry a disc brake front and rear. An RD350 front hub and an 18″ Excel rim was used for the rear using a machined conversion to carry the rear sprocket. A stock XS650 front hub was then laced to an 18″ Excel rim with stainless spokes for the front wheel. 20 lbs lighter than the stock mags… that's like 140 lbs when you take centrifugal force into account… worth more than extra horsepower! The fork legs and trees (top tree shown with fancy British Scitsu racing tach) were also shaved for all unused brackets and are now equipped with drilled dampers, damper valves and progressive springs.
Mock up time!
I wanted to get a feel for the shape of the bike before I started to get carried away… I also thought it might be an idea to work out a nice color scheme too. So, I stuck it together and had a little fun in Photoshop and came up with a play on the old 70′s Kenny Roberts racing colors. FYI tank is Suzuki Titan.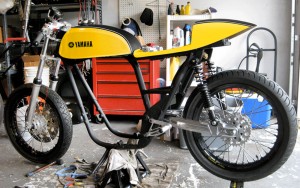 Wiring made simple.
A stock XS has over 17 million miles of useless wires. So… after careful thought I decided it really was all useless and made my own harness out of a single wire and 2 paper clips. Here's the result; nice neat wires all hidden under the seat. It even has blinkers and the electric start! (the kick start and shaft actually weighs about the same as the electric, so I have opted for the electric foot and have ditched the kicker completely). Tach is also electric, so no cable there either. As I am a nice person, I have made a PDF of the wiring for all to share.
Good head & flatslide carbs. Happy.
Gas flowed head with matched Shell intakes… that was the plan, but because I wanted to be all flashy and try something that I haven't seen on an XS before… my plan has failed. The reason it's failed is that I am using a pair of Mikuni RS 36 smoothbores from a KZ900 (and some snowmobile parts) and they are so close to the frame that I have to use the stock intakes… and in fact, I don't even have enough room for the stock gaskets! The carbs do look nice though. So, I have taken the intakes out to 36 mm and both intake and exhaust ports have been re-worked with shorter guides and a lot of grinding. Stainless valves and HD springs with titanium caps will top it all off… with lifting help from a lumpy Shell No.1 racing cam.
650cc + $600 = 750cc.
Truth be told, I have a lot more than $600 in this engine… it's closer to $2000. But having said that, it should be close to twice the power to weight ratio of a stock bike now. The bore kit is one of those Mikes XS big-fin kits, and it was very nicely made! Other engine mods include a Shell No.1 cam, 750 kit, race clutch set-up and of course all that head work and flat slide Mikuni RS 36′s (and stuff I have forgotten). Should be fun… or it will explode in a ball of flames, I can't decide yet. Luckily I didn't manage to get hold of a Euro crank, because I would have ended up re-mortgaging my house to take it out to 980cc or something stupid like that.
Latest update… as there has been much activity.
It's been a while from the last update as I have been waiting on parts… but here they are and it's sooo close to being finished now. In fact, all I have left is the fuel petcock and rear brake line to sort out.
Since last time it has the engine in the frame, all the wiring completed and assembly of the rest of the bits that make a bike move. The toughest thing was cramming those RS36 carbs in the frame… in fact it was so tight that the frame had to be shaved a little and there are no intake gaskets… it was that tight. I hope they were worth all the effort!
As you can all see, the bike is sporting some extreme stopping power with a 320mm Brembo front rotor, Tokico caliper, the rear is completely Brembo, Aluminum rear sprocket, X-ring chain, the lovely aluminum rear swingarm, S&W shocks (I used to deal in those back in the 80′s), Integrated turn signals front and rear (yes, the front ones are built into the headlight), Stainless 2 into 1 exhaust (thanks Apollo Cones and Matt for sticking it together)… and last, but not least… the paintwork is back from Full Custom Fab. It looks very smart indeed. Also, as it now has it's paint… it now has a name; 'The Hornet'.
This week, I will be sorting out the last few little things and then pressing the 'go' button to see what happens. I'll keep you all posted. Well, after a few carb issues, it runs like shit off a chrome shovel. It's really weird going from my stock 76 XS650 onto this thing… it's like a modern bike in comparison. It stops, handles and goes like a modern-day 600cc sport bike almost. I'll get a video of it running posted as soon as the weather gets a little better. It now also has padding on the fiberglass seat… well, not much padding, but it's slightly less painful than before.
For all those of you who read Dice Magazine, it's now also featured in the May issue… yay!